Vision and mission
VISION STATEMENT:
OUR ICS VISION IS TO EDUCATE STUDENTS TO BECOME FUTURE CATHOLIC LEADERS WHO ARE ABLE TO MAKE A POSITIVE DIFFERENCE IN OUR WORLD BY INCORPORATING STRONG CATHOLIC BELIEFS INTO THEIR LIFESTYLES.
MISSION STATEMENT:
IMMACULATE CONCEPTION SCHOOL EXISTS TO WITNESS THE GOSPEL AND TO SHARE THE SPIRITUAL TRADITIONS OF CATHOLICISM, THROUGH SERVICE TO A DIVERSE RANGE OF CULTURAL, ECONOMIC AND RELIGIOUS COMMUNITIES. OUR PROGRAM IN PARTNERSHIP WITH PARENTS, STRIVES TO EDUCATE THE WHOLE CHILD SPIRITUALLY, INTELLECTUALLY, AND PHYSICALLY BY NURTURING A HEALTHY AND VIBRANT SOUL FORMATION, ACADEMIC EXCELLENCE AND THE SHAPING OF STRONG INDEPENDENT MINDS.
Our mission statement is such a part of who we are, we made it into an acrostic, and our students and teachers recite it at the end of each school day!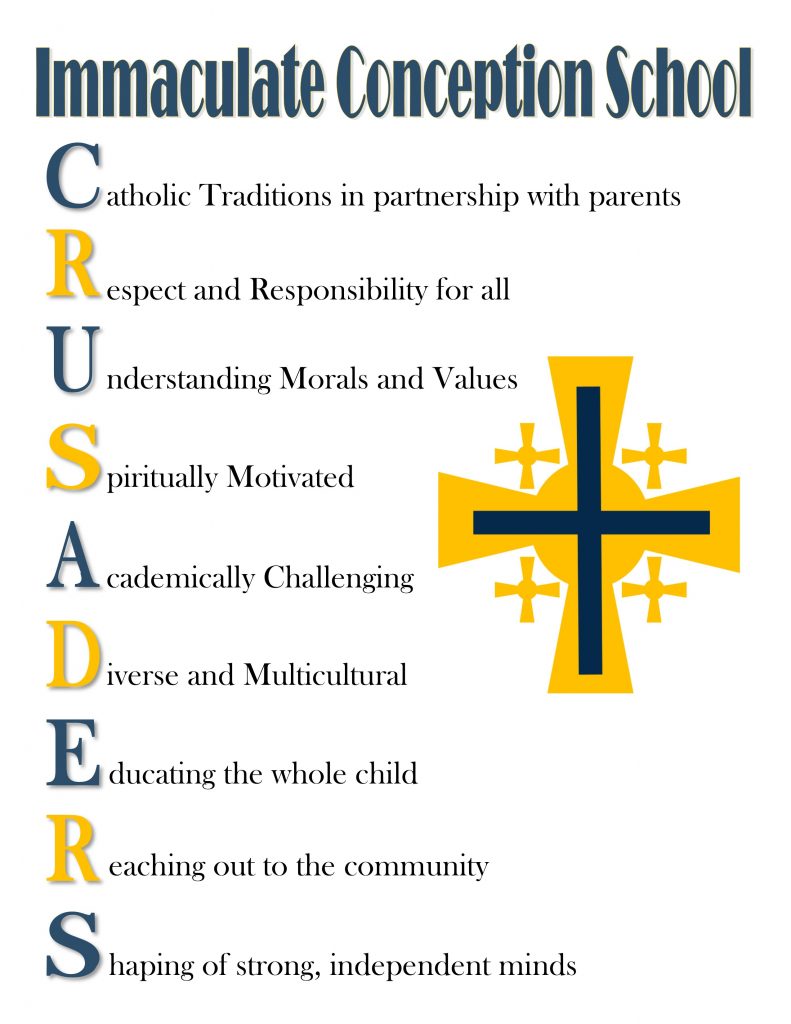 Respect
Students are taught respect and values while learning and growing together.
Responsibility
As students grow, so do their responsibilities. Our goal is to have our 8th graders graduate as independent, responsible students, who are ready to succeed in all they do.
Honesty
Being honest is a virtue that is instilled in even our smallest 3-year old Crusaders. Being taught to tell the truth and face the consequences of one's actions is a crucial part of growing up and learning the responsibility we need our future generation to have.
Kindness
Students learn to practice the virtue of kindness in all they do. No forms of bullying or inappropriate behaviors are tolerated.